I fell in love on Aisle 23 at Total Wine Dallas...I know, I know - it sounds crazy doesn't it? But, it's true. Let me tell you how it happened.
Most of you know that I have moved my love for all things wine over to the new game in town, Total Wine and More at Park Lane and Central in Dallas. (What a FABULOUS store! If you haven't shopped there yet, you're in for a real treat - great wines, great prices!)
One of my last acts at
World Market
was to purchase a couple of cases of my favorite bubbly - Rene` Barbier Brut Cava - a wine that's exclusive to that chain. For the last couple of years, it's been my favorite everyday glass of bubbles and at $6.99, quite the bargain!
Anyway, back to Aisle 23...
After a couple of months, I had drank my way through the Rene` Barbier Cava cases and was faced with the task of finding a new bubbly that matched my palate. I knew I didn't want to go back to World Market for more Rene`, I wanted to support my
new store
in the same manner as I did my old store - it's only right.
The major problem was, I'd never heard of these producers, let alone tasted them; it was obvious I'd have to take a few home to check them out. My credit card began to whimper in my purse as I rationalized with myself that in order to talk intelligently with my customers about each of the wine's merits, I would first need to "
research
" the wines. Hmmm, perhaps it would be a deductible expense?
That thought clinched it for me and I set off with a shopping cart, headed for AISLE 23 - Sparkling Wine.
I stood in Aisle 23, accompanied by my palate, and began to read the bottle and tasting notes on each wine in an attempt to find ones that sounded like what I prefer - not an easy task, since Total carries 300 bubblies! Eventually, I whittled the list down to twelve that fell within my price range and left the store with a mixed case of sparklers:
Rondel Brut Cava $6.99
Rondel Brut Rose` $6.99Conde de Caralt Cava Brut $6.99
Conde de Caralt Cava Brut Rose` $6.99
Marques de Monistrol Cava Brut $8.99
Marques de Monistrol Cava Brut Rose` $8.99
Louis Bouillot Brut $13.99
Jean Albrecht Cremant` d'Alsace Brut $13.99
Arthur Metz Cremant` d' Alsace Brut $11.99
Arthur Metz Cremant` d' Alsace Rose` $11.99
Arthur Metz Cremant` d' Alsace Blanc de Noirs $13.99
De Margerie Grand Cru Brut $29.99
So, now to the daunting task of tasting through bottle after bottle of bubbly to discover the new favorite, it's sort of like Speed Dating - you have to go through a lot of Mr. Wrongs before you meet Mr. Right.
I tasted them in the order listed above, and was very impressed by the quality evidenced in each of my selections. At the end, I felt that I'd done a pretty good job of matching the offerings of Aisle 23 with my palate and my wallet - I would be comfortable buying a case of most of these wines.
But which were my favorites? Which would hold the title of new go-to bubbles after a long day at work? Here's where the post title comes in...
I fell in love with Arthur Metz on Aisle 23 at Total Wine!
I loved, loved, LOVED everything that bore the name Arthur Metz. They each had a consistency in style, flavor and quality that spoke to my palate - lively acidity balanced with elegant, yet subtle fruit, minerality and a slight hint of toast and lees.

Arthur
had it all, whether the Brut, the Rose`, or the Blanc d'Noirs - Arthur knew the way to make my wine-drinking, bubble-loving heart jump for joy! Thoughts of Rene` Barbier were banished from my mind as Arthur's stream of pearls danced in my glass.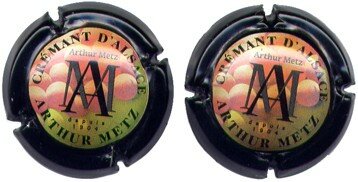 Yesterday as I patrolled Aisle 23 in search of customers needing bubbles, I glanced longingly and lovingly at Arthur. It was easy to resist a caress of the Blanc d' Noirs bottle because I knew that at home, Arthur was waiting for me - ready to pour a little wine-love into my glass...
If you'd like to take Arthur home with you I promise I won't be jealous,
there's enough Arthur for all of us, you'll find him on Aisle 23 at Total Wine in Dallas.
Find him ~ Buy him ~ Try him ~ Love him!
Salud! KathyD
People everywhere love Arthur - check out this
video
at one of the European wine shows.